As surfing has become more and more popular over the decades, the number of spots known for great waves has grown as well. With summer's arrival, now's the time for novices and pros alike to seek out the best surf they can find. We've selected a diverse mix of charming, slower-paced spots and mainstream destinations spanning from Florida and California to Hawaii. And don't forget: Surfing spots come with delicious beach grub, lively nightlife options, and accommodations with stellar views. Here are the 10 best surfing spots in the U.S.
by Kate Donnelly
Pal Teravagimov/Shutterstock
Santa Cruz, California
Lovingly referred to as "Surf City," Santa Cruz is a surfing mecca that's perfect for surfers of all levels. Beginners flock to Pleasure Point, while the intermediate set hits Cowell's Beach to master the art of wave catching. Perhaps the most famous, Steamer Lane, offers world-class waves to the experienced set, while the more relaxed Capitola Beach is a good spot for beginners. No matter your skill level, the popular Crow's Nest is perfect for seafood lovers. The charming, renovated 10 rooms of the West Cliff Inn provide a comfortable place to lay your head.
PLAN YOUR TRIP: Visit Fodor's California Guide
Sylvana Rega/Shutterstock
Montauk, New York
Appropriately called "The End," Montauk, a once quiet fishing town at the east end of Long Island, is now a bustling surfer enclave. The town is only 120 miles from New York City and the crowd is a lively mix of creative types and wealthy, fashion-forward Manhattan-ites. Constant swells converge from all directions (south, west and east), so expect good waves, a stunning coastline, and stellar fishing. The beloved, crowded Ditch Plains is where the action happens. Afterwards, head to The Hideaway for tacos and cold drinks, or dig into a lobster lunch at St. Peter's Catch (58 S. Erie Ave). The hip, boho set stay at The Surf Lodge retreat.
PLAN YOUR TRIP: Visit Fodor's New York Guide
JingleBeeZ Photography/Shutterstock
Malibu, California
About an hour's drive west of Los Angeles sits the iconic, well-preserved surf town of Malibu. A long, unspoiled stretch of south-facing coast reveals several breaks like Zuma Beach, and longboards dominate the popular Surfrider Beach. Despite a slew of Hollywood cameos, Malibu remains a surprisingly relaxed spot. The oceanside Cape-Cod style Malibu Beach Inn is a romantic spot for sunset-viewing, while the on-site Kristy's Oven & Wine Bar offers al fresco dining.
PLAN YOUR TRIP: Visit Fodor's California Guide
Kill Devil Hills, North Carolina
Don't be fooled by its menacing name; this acclaimed North Carolina Outer Banks' town is a surfer's dream, with laid-back, slow-paced Southern soul and quality waves. Summer brings in East Coast swells coupled with 100 miles of barrier island beach. Surfers can't miss the fried Mahi sandwiches and black-and-blue burgers at Food Dudes Kitchen (1216 S. Virginia Dare Trail). Enjoy oceanfront rooms at the quaint Surf Side Hotel (don't skip the continental breakfast before paddling out).
PLAN YOUR TRIP: Visit Fodor's North Carolina Guide
mikeledray/Shutterstock
San Clemente, California
Located between San Diego and Los Angeles, San Clemente, the "Spanish Village by the Sea," sees impressive swells all year long and is home to famous breaks like Trestles (which hosts a World Tour event), Dohney, and San Onofre (aka San-O). Come summer, waves arrive from the south and water temperatures top out at 75 degrees. If there isn't enough surf, Dana Point, Laguna Beach, and Huntington Beach are all within 25 miles. The family-owned Pedro's Tacos is perfect to quell post-surfing appetites, while the hidden eight-room beach gem Casa Tropicana is an ideal beachfront getaway.
PLAN YOUR TRIP: Visit Fodor's California Guide
(c) Crystalcraig | Dreamstime.com
Haleiwa, Hawaii
Only an hour's drive from Waikiki, Haleiwa (pronounced hah-ley-EE-wah) sits on the North Shore of Oahu. The legendary Eddie Aikua got his first taste of waves here and the surf haven of Ali'i Beach Park is the first of many breaks. The Seven-Mile Miracle provides the backdrop for world-class surfing and isn't for the faint of heart. The area stretching from Haleiwa to Turtle Bay is a surfer's dream, especially when colder months usher in 50-foooters and create ideal conditions for the advanced surfer. Grab a Hawaiian style Hula Dog (66-236 Kamehameha Hwy) and watch the action unfold. In town, expect quiet nightlife and rustic, surf-shack accommodations.
PLAN YOUR TRIP: Visit Fodor's Oahu Guide
Jon Buder/Shutterstock
Encinitas, California
A quick 30-minute drive from San Diego, the energetic coastal town of Encinitas is always open for business. Expect thick summer crowds and a glorious combination of wind and waves. There are various staple surf stops from Cardiff-by-the-Sea to the famous Swamis, a stunning reef (now a protected marine area) where high-performance surfers skim the waters. Raul's Shack (490 S Coast Hwy 101) dishes out endless carne asado tacos and margaritas. The 45-acre sanctuary of Rancho Valencia is an upscale, five-star spot with a full-service spa to massage your sore muscles.
PLAN YOUR TRIP: Visit Fodor's California Guide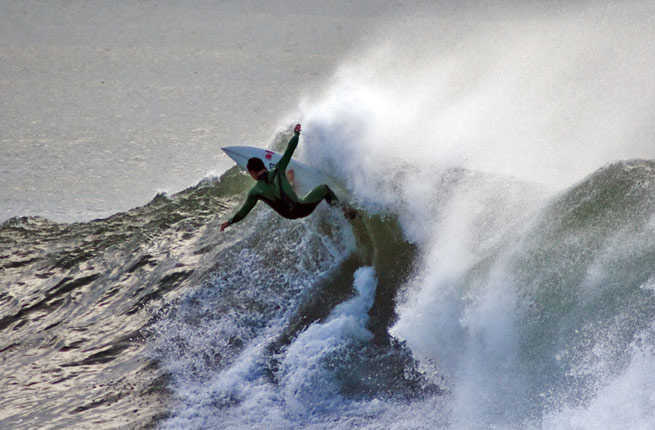 Ruggles, Rhode Island
While Rhode Island may be the smallest state, it makes up for it with big surf. The historic town of Newport hosts Ruggles, a stretch of reef breaks with consistent, year-round riding conditions. Hurricane weather calls for serious boarding experience once sizeable, curving waves arrive. The hungry enjoy the raw bar at 22 Bowen's Wine Bar & Grill, the creamy clam chowder at The Black Pearl, and fresh seafood at The Mooring. The Castle Hill Inn has sweeping sea views and summer clambakes.
PLAN YOUR TRIP: Visit Fodor's Rhode Island Guide
(c) Dosecreative | Dreamstime.com
Cocoa Beach, Florida
Cocoa Beach is the home of world champion surfer Kelly Slater and the famous surf shop, Ron Jon. The town is also where I Dream of Jeannie premiered. Beginners and longboarders appreciate the smaller, rideable waves at "The Streets," while Cocoa Beach Pier picks up winds from the west. The Sebastian Inlet is often crowded, but features near-perfect waves. After hitting the waves, try Fat Kahuna's Grill & Bar (8 Minuteman Causeway). For romantic, oceanfront views, head over to the Inn at Cocoa Beach.
PLAN YOUR TRIP: Visit Fodor's Florida Guide
Paia, Hawaii
Once a booming plantation town, Paia is comprised of miles of reef, white sand, and consistent surf. Located on Maui's North Shore, the friendly, laid-back locals are a mix of wellness seekers, beach bums, and artists. While the waves don't compare to Oahu's North Shore, you'll still find solid surf, and other activities include kite surfing and wave-jumping. Winter produces some hearty high swells, which beckon the pro surfers. About three miles east sits the legendary Jaws break (where Laird Hamilton rides massive waves). After a day in the water, nab a Mahi fish burger and cold beer at Paia Fish Market and bunk at the hip, boutique Paia Inn Hotel.
PLAN YOUR TRIP: Visit Fodor's Maui Guide